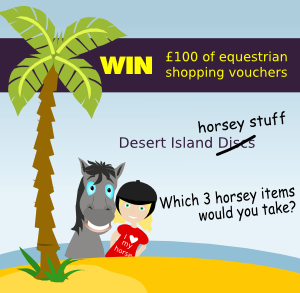 Remember our competition from December 2012 to win £100 of equestrian shopping vouchers?
Our winner was selected at random and has now received their prize. Congratulations to Jennifer from the Isle of Man.
We had many thoughtful answers to our question:
"If you were stranded on a desert island with your horse, which 3 horsey items you would like to have with you."
We hope you had fun entering.
Read the complete list of entries on our
competition page
.
We will be launching new competitions soon.