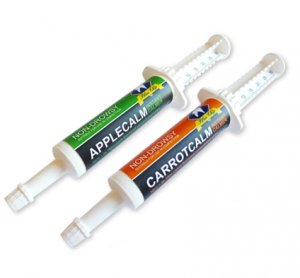 AppleCalm / CarrotCalm
Do you ever have problems with a nervous horse?
Blue Chip's new instant calmers come in your horses favourite flavours of apple and carrot and have been proven to be 92% successful at calming nervous horses in stressful situations such as vet visits or competing. You may even want to use the calmer when hacking out on a spooky horse.
AppleCalm & CarrotCalm
The R.R.P. is £12.50 per syringe
Each syringe contains 3 doses.
The ingredients are 100% natural.
They do not make your horse drowsy.
We are currently testing this product, so you can find more details on our
tried and tested page.
Or visit
Blue Chip
directly